Discover more from The Up and Up
Your destination for news and insights about young people and our politics.
Over 1,000 subscribers
'Anger makes change': Takeaways from a day of talking to young Americans in Fort Collins
Over the next few weeks, I'll be traveling to cities across the country and talking with young Americans as part of a project to amplify Gen Z voice with the Walton Family Foundation and Murmuration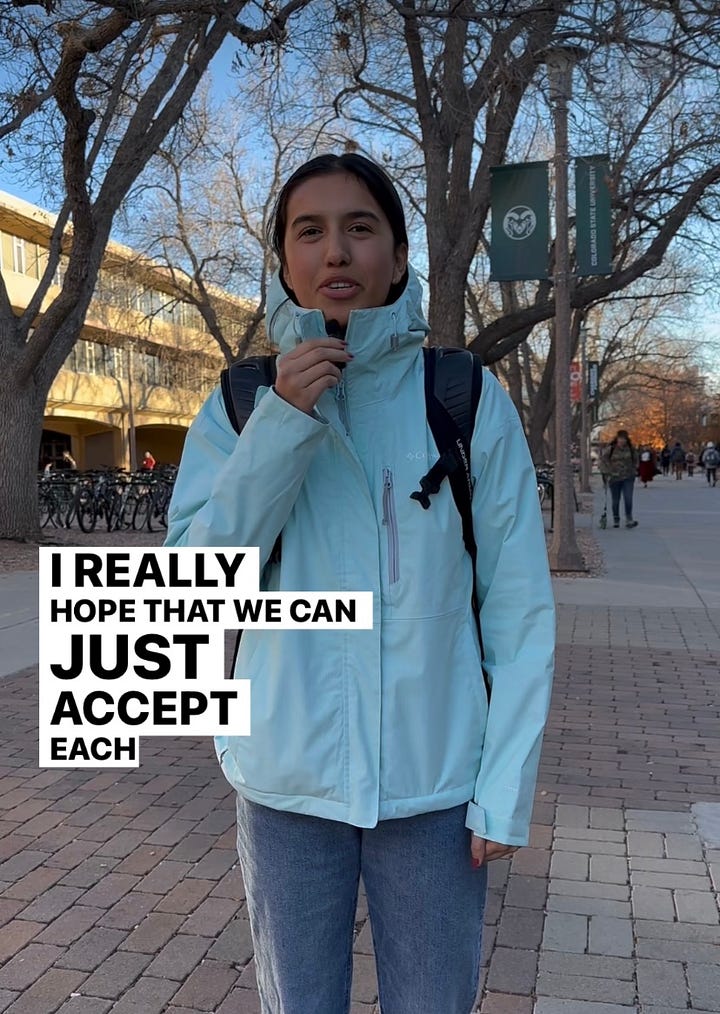 A note to readers
Over the next few weeks, I'll be traveling to cities across the country and talking with young Americans as part of a project to amplify Gen Z voice with the Walton Family Foundation and Murmuration, an education advocacy nonprofit.  
The conversations are part of a broader initiative to gauge how young Americans are feeling in the aftermath of the 2022 midterms. Did they vote? If so, why? If not, why not? Do they view voting as an effective vehicle for change? What issues matter to them most? 
The project will build on existing research from the Walton Family Foundation and Murmuration that has so far explored Gen Z's perspective on civic engagement, work life, family life, education, life preparedness, and more. 
The two groups teamed up to start exploring themes and trends pertaining to Gen Z last spring, and now, as a fellow with the Walton Family Foundation's education team, I have the privilege of joining, observing, and reporting on some of the takeaways.
I hope you enjoy reading about our findings. Please don't hesitate to reach out with any questions, and we look forward to sharing the final product down the line. 
Enjoying The Up and Up? Subscribe here to receive new posts in your inbox 📥
'Anger makes change'
Our first listening session was on Tuesday at Colorado Early Colleges, a tuition-free public charter high school in Fort Collins, Colorado.
We sat down with seven students between the ages of 15-17. While none of the students were of voting age, they talked to us about how party politics manifest in their community. They shared their hopes and fears for the country and the issues that matter to them most.
Answers ranged from women's health and reproductive rights to LGTBQ rights, gun violence and school safety, the legalization of certain drugs such as marijuana or shrooms, and mental health.
When asked about the greatest challenges they face, almost immediately, the students talked about fear of being judged.
"Cancel culture has gotten so bad," said a 16-year-old student who identifies as nonbinary.  
Just as quickly, the topic of religion came up. It was clear that many of the students grew up in religious households and grappled with how that piece of their identity intersects with their politics.
"I've had instances where I say, 'Oh I'm Christian,' and then people take it out of pocket and say, 'Oh then you must be racist and homophobic,'" said a 17-year-old female student.
"I'm scared to say certain things because I'm not completely liberal, but I'm also not conservative," she said. "It's just scary to have to walk on eggshells with every single person you meet."
The students overwhelmingly described not wanting to associate with either political party out of fear of being boxed into a certain set of beliefs – most said they'd consider themselves an independent or unaffiliated, one identified as a Republican, and one as a Democrat.
"Majority of people really don't lean fully one way or another," one student said.
"I wouldn't classify myself to be on any side of the spectrum, because if I start to label myself, I'm going to lean more toward one side," said a 17-year-old male student.
We also talked about how Gen Z is different from older generations. The students described feeling louder and more opinionated than their parents, but also more malleable and open-minded in their beliefs.
"You don't have to agree with everyone's opinions," said a 16-year-old female student.
Another 16-year-old student who said she identifies as a woman and protested after Roe v. Wade was overturned said she believes change happens when people voice their anger.
"Anger makes change," she said, adding that older generations are less likely to voice that anger. "They were raised to not fight like that. They were raised to be, I don't know, quieter in their opinions and not as confrontational."
Asked what has caused the group to "fight," one student said "trauma," another said feeling like personal rights are being taken away – she pointed to drama over masking in schools and abortion rights.
"People start to take action when things are taken away from them," she said.
'Previous generations were focused more on making money and having a stable life'
About 15 minutes north at Colorado State University, also in Fort Collins, the conversation was remarkably different, and yet, the 12 students we spoke with remained equally concerned with cancel culture and just as frustrated by the status quo.
These students, ages 18-22, listed political polarization, democracy, housing access, nuclear war, global warming, and student debt as top of mind.
While they were eager to voluntarily join a conversation about civic engagement and political participation, only six of the 12 voted in last week's midterm elections.
The party breakdown was similar. Nearly half identified as independent or unaffiliated, two as Republicans, two as Democrats, and one as libertarian.
Like the high schoolers, the students at CSU discussed a concern over sharing an opinion out of touch with those around them.
"On college campuses more so now than ever before, there's kind of a fear of certain groups to express their opinions because college campuses have leaned one way for at least the last decade," said a 21-year-old male student.
"The social retribution for one idea being expressed that is unpopular in the lens of another student is difficult to square," he said, later adding that he feels many students disassociate out of "fear of being ghosted or cancelled."
One 19-year-old female student described abortion and transgender rights being especially challenging to talk about because "they literally deal with the lives of other human beings. If you're against one of those and the other person is for it, that's quite literally an attack on their life," she said.
For the students who voted, they described the sentiment of voting against candidates or a party rather than voting for the other. Many of the students, including one who identified as a Republican but said he would never vote for an election denier, said they split their ticket.
Asked what makes their generation unique, students described a sense of urgency around issues like climate change and having no choice but to act.
"Previous generations were focused more on making money and having a stable life," said a 20-year-old male student. "And now, priorities shift, so we can see new problems that can affect us or our children in future," he said.
But there was an understanding that the change they'd like to see, especially on issues like the climate, would take decades.
The same student described climate action like going to the gym, and said he knows that results take time.
"If I work out, I won't see changes until three weeks… It's not an automatic change. It's like the same thing with politics," he said.
But others described a lack of representation on the issues that matter to them most.
"I think the reason why we see change needing decades to happen… is because the change we want to see all has to be done by proxy. Any law that has to be changed has to be changed by someone else," one student said. "I mean now we have a Gen Z rep-elect in Congress, but largely, the views that young people hold universally, I think that aspect of actually creating change has to be done on a legislative [level], kind of an elected leader in that position."
Before and after our discussion, I chatted with a few CSU students. Find more of what they had to say on The Up and Up's Instagram.