Discover more from The Up and Up
Your destination for news and insights about young people and our politics.
Over 1,000 subscribers
Concerned, but engaged.
It's been one year since SCOTUS overturned Roe v. Wade. Polls, electoral campaigns, and access initiatives paint a picture of a generation that's committed to ensuring reproductive healthcare.
It's been one year since the Supreme Court overturned the landmark Roe v. Wade precedent with the Dobbs decision — making our generation the first in 50 years to grow up without the federally protected right to an abortion.
As young people grapple with what it means to live in a post-Roe America, the past year has demonstrated that many are concerned and engaged.
Polls, electoral campaigns, and access initiatives paint a picture of a generation that's losing trust in the Supreme Court but is eager to elect pro-choice representatives and committed to ensuring the right to reproductive healthcare.
August: Young Kansans organize to protect the constitutional right to an abortion
Just months after the Dobbs decision, Kansas became a battleground for abortion access as the first state to vote against a constitutional amendment that would have removed abortion protections from the state constitution.
Ahead of the vote, Loud Light — a youth civic engagement group in the state — worked with Kansans for Constitutional Freedom — a bipartisan coalition of reproductive rights advocates focused on ensuring that Kansans voted no on the amendment.
As part of its organizing, Loud Light ran a "Vote Neigh" campaign, a "yassified pink western version of Vote No to help engage young people on the issue."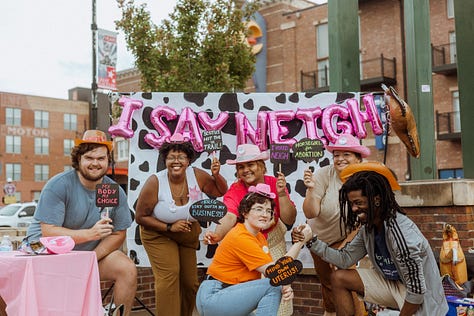 Chloe Chaffin, an organizer with Loud Light and URGE (Unite for Reproductive & Gender Equity), joined The Up and Up this week to describe what youth advocacy and activism for reproductive rights in Kansas has looked like since then.
The Up and Up on Instagram: "After the Supreme Court's Dobbs decision that overturned the landmark Roe v. Wade precedent, Kansas became a battleground for abortion access as the first state to vote against a constitutional amendment that would have removed abortion protections from the state constitution. Ahead of the one-year anniversary of Dobbs,
@chloerchaffin
, an organizer with
@loud_light
and URGE in Kansas, joined
@the.upandup
to discuss what this past year has looked like in her home state."
November and the months that followed: Young voters say abortion access was their top issue in the 2022 midterm elections
Anecdotally, on Election Day, I conducted exit polls in Philadelphia. While yes, it's a liberal city, literally every young woman I spoke with said 1) abortion access, 2) reproductive healthcare, or 3) women's rights were the most important issues motivating them to vote that day.
In the weeks and months that followed, it became clear that abortion access and reproductive healthcare were central to many young Americans decision to vote in the 2022 midterms.
According to a study I worked on with the Walton Family Foundation, Murmuration, and Social Sphere titled "Understanding the Gen Z Vote," abortion/women's rights was the single most important issue for Gen Z voters in the 2022 midterms (29% listed abortion/women's rights as the issue driving them to the polls).
That tracks with data from the Center for Information & Research on Civic Learning and Engagement at Tufts (CIRCLE), which says that "young voters were the only age group to cite abortion as the issue that most influenced their vote."
April: Abortion motivates young people in Wisconsin state Supreme Court election
In a state Supreme Court election that would usually see low youth voter turnout, young people in Wisconsin showed up in high numbers, also motivated by a desire to protect abortion access in the state.
High youth voter turnout helped propel liberal Judge Janet Protasiewicz to victory. She's now serving a 10-year term on a bench that could make decisions about a number of issues, including abortion access, in the state.
Understanding the high stakes of the race, youth vote organizers with Project 72 Wisconsin were laser focused on turning out voters on and around college campuses in The Badger State. They worked across 15 campuses (including most of the major University of Wisconsin schools and a few private universities) and many of their initiatives highlighted Protasiewicz's support for abortion rights.
At the time, The Up and Up reported that for students, the top issue in this election was far and away abortion. According to the group, the most popular sticker they doled out said "i ❤️ bodily autonomy."
According to organizers, a couple of days before the state Supreme Court election on campus at UW Eau Claire, a voter shared her own experience with abortion — demonstrating that the state's current abortion ban (which Wisconsin's Democratic governor and attorney general challenged with a lawsuit) is tangible for young Wisconsinites. That voter had to drive out of state to neighboring Minnesota for abortion care.
Young people's faith in the Supreme Court is dwindling, according to Harvard IOP Youth Poll
Later in April, the Harvard IOP released its Spring 2023 Youth Poll, which shows that among young Americans, faith in the Supreme Court to "do the right thing" dropped ten percentage points in the past ten years.
A write up around the poll from the Harvard IOP says:
"Compared to Spring 2018, trust in the United States Supreme Court to "do the right thing" all or most of the time has decreased by 10 percentage points (43% to 33%). Five years ago in 2018, the partisan divide between Democrats (43%) and Republicans (51%) was eight points; today, the divide stands at 20 points (28% Democrat, 48% Republican). In 2018, 40% of young females trusted the Supreme Court, today that number stands at only 28%."
Youth-backed access and policy initiatives
Beyond electoral efforts, young people are leading reproductive healthcare access and policy initiatives across the country.
As I wrote in May for Glamour, sexual and reproductive healthcare advocates are pushing for emergency contraception vending machines on college campuses. The need is more vital than ever, they say.
And there's a revitalized push to ratify the Equal Rights Amendment, which advocates say would help protect those seeking abortion, thanks to young organizers with Generation Ratify and leaders like Democratic Rep. Cori Bush. I wrote about that effort for Elle in March.
And in Congress…
Beyond the work of young activists, elected officials, including one of the youngest women in Congress, Democratic Rep. Sara Jacobs, is pushing for legislation to protect reproductive healthcare access and data.
She told me all about her experience and the "My Body My Data Act," legislation she sponsors, when we spoke on Instagram Live.
The Up and Up on Instagram: "Today,
@repsarajacobs
joined The Up and Up for a conversation about reproductive healthcare access and the recent mifepristone decision. Congresswoman Jacobs, who is one the youngest women in Congress, introduced the My Body, My Data Act last year with a goal of protecting personal reproductive health data."
Eager to hear your thoughts
As we continue to see what the fabric of a post-Roe America will look like, I'm eager to hear your thoughts and report further on how young people are engaging. Please send any suggestions my way. I'm all ears.