Discover more from The Up and Up
Your destination for news and insights about young people and our politics.
Over 1,000 subscribers
'This is an attempt to protect the next generation': A youth-led push to make the internet safer for young people
Big Tech accountability advocates with the Design It For Us coalition are rolling out a five-part policy platform for lawmakers and stakeholders aimed at protecting young people online.
Earlier this year, a group of digitally native young people came together to launch Design It For Us — a coalition of Big Tech accountability advocates focused on making the internet safer for young people.
Their mission is simple, yet unprecedented and slightly ironic: bring youth voice to the front of a conversation about protecting young people online, which had previously, for the most part, excluded young people.
The coalition is led by students like Emma Lembke, founder of 'LOG OFF Movement' who testified in front the Senate Judiciary Committee in February about the negative effects of social media on young people's mental health, as well as Zamaan Qureshi, a policy advisor and the head of digital strategy for 'The Real Facebook Oversight Board,' a response to Meta's external Oversight Board that Facebook and Instagram users can appeal to. Both Lembke, a junior at Washington University in St. Louis from Birmingham, Alabama, and Qureshi, a senior at American University from the suburbs of Chicago, Illinois, are 21.
"I got involved in this space because when Francis Haugen, the Facebook whistleblower, made her disclosures, there was no youth perspective in the conversation. Lawmakers were grasping at straws to try to see how kids and grandkids were experiencing it," Qureshi told The Up and Up. 
Now — as the latest step in their full throttle push to make the internet a healthier place for young people, Design It For Us is rolling out a five-part policy platform for lawmakers and stakeholders. The policy platform principles are:
"The responsibility of safety rests on Big Tech"

"Address the business model"

"Provide and prioritize user agency"

"Algorithmic accountability"

"Data use, minimization, and user control"
"This is an attempt to protect the next generation," Lembke told The Up and Up, referring to the rest of Gen Z and Generation Alpha, which was born starting in 2010.

"We were the guinea pigs, we were the generation that were tested in terms of social media's impact on our life without our agency and wellbeing being at the center of a lot of decisions on how the online world is shaped," Lembke said. "So I think that my generation ironically feels a profound responsibility to ensure there are no longer guinea pig generations for tech CEOs and for Big Tech companies."
Comparing social media platforms to cars, the policy proposal says that just as we assume cars will have seatbelts, social media platforms should have guardrails to protect their users. It also suggests that the Big Tech companies adjust the baseline on their platforms to automatically provide the safest possible settings, rather than asking users to opt into safer options.
In the lead up to announcing their policy platform, advocates with Design It For Us held a week of action in Washington, D.C. this summer, where they met with Senators Dick Durbin, Ed Markey, Richard Blumenthal, and Representatives Kathy Castor and Jamaal Bowman (all Democrats). The group also met with White House officials at the Gender Policy Council and organized a lawn sign action in front of the Capitol.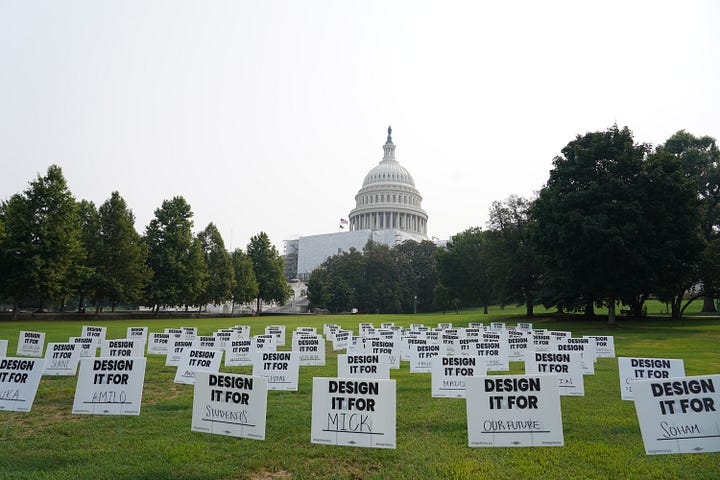 As lawmakers grapple with how to regulate Big Tech (and as some contemplate banning TikTok altogether), we've seen numerous examples of older lawmakers struggling to understand the platforms occupied by their youngest constituents. And yet some of these very lawmakers, such as Blumenthal, who chairs the Senate Judiciary Subcommittee on Privacy, Technology, & the Law, are working to hold social media companies accountable for their impact on young people's mental health. In turn, Design It For Us is working with these lawmakers, sharing their perspective and guidance.
"The benefit to us doing this is that lawmakers are able to point to this and say what do young people think about these issues," Qureshi said. 
Lembke, who's been outspoken about her personal experience dealing with the negative effects of social media, said she's found a lot of power in sharing her personal experience (and that of a lot of young people) with "social media perpetuating issues relating to eating disorders and harmful content as it relates to body image." She believes storytelling can bridge generational gaps between the young people who have grown up on social media and older lawmakers who have not necessarily witnessed its downsides firsthand.
"That has been a really profound point that has struck home with a lot of lawmakers and parents," Lembke said. "They have people in their family that they see really struggle and not know how to get out and not know how to escape and kind of be at the whims of unrealistic body standards being perpetually pushed at them and recommended to them."
"The beauty of the responsibility that we feel is incredibly nuanced. A lot of other generations, you'll hear members call Gen Z screenagers and demeaning terms like that that paint a picture of screen zombies, individuals who are controlled completely by their screen usage and should unplug — and I say this as an individual who runs an organization called LOG OFF," Lembke said. "The genie's out of the bottle. There's no way that we can go completely back to an era or age where social media doesn't exist, nor should we. But in that nuance — in the ways we can benefit from social media, in the ways we can be harmed —  we really have to strike a balance and that balance has not been reached. It's on Generation Z to paint that nuanced picture and to approach building out better technology in a very critical, mindful, and user-centric manner."
You can check out Design It For Us' full policy platform here.
Meanwhile, on social media 📲 …
Boxer and social media personality Jake Paul is addressing his work with "underdog presidential candidates" in the 2024 election. Paul's posted on TikTok with Republican candidate Vivek Ramaswamy, and on X with Democratic candidate Robert F. Kennedy Jr.
After Paul was was mentioned by name at the Republican debate in a question directed at Ramaswamy about his profile on TikTok, Paul wrote on X:
"Vivek is right. If he or any other President wants to beat Trump or Biden they need the youth. It might be a shock to y'all that most 18-28 year olds don't use this platform or let alone care about politics. We need our youth to VOTE and to IDENTIFY with a president. HOW does the youth (who mainly uses social to interact) identify with a president who isn't personally operating their social and is relatable to them? I want my audience to understand the importance of this election. Furthermore, after launching Tik Tok (in just 2 weeks) it now has become Vivek's most viewed platform. I am the most followed American athlete on Tik Tok and command legions of American fans to engage and enact. Someone can be an amazing candidate with amazing policies but if they can't get into office it doesn't matter."
More on this here: Jake Paul Responds to Becoming Talking Point During Republican Debate, Shannon Power for Newsweek
More youth vote in the news 🗞
Democrats plan four-hour live stream with Twitch and YouTube stars, Taylor Lorenz for The Washington Post
You'd Have to Be On Mushrooms to Believe Trump Is Beating Biden By 20 Points Among Young Voters, Charles P. Pierce for Esquire
Nine younger voters want 2024 candidates to address these issues, Anthony J. Rivera for The Washington Post