Discover more from The Up and Up
Your destination for news and insights about young people and our politics.
Over 1,000 subscribers
A dispatch from the Students Learn Students Vote Coalition's National Summit
Hundreds of youth vote organizers and allies gathered in College Park, Maryland to kick off 2024 student turnout efforts. There was a focus on local politics, policy over party, and collaboration.
Last week, I traveled to College Park to attend Students Learn Students Vote (SLSV) Coalition's 'National Student Vote Summit,' a three-day convening to energize campus organizers ahead of 2024, held at the University of Maryland.
Walking into the Adele H. Stamp Student Union on Thursday morning, the adrenaline was clear as students from all different locales introduced themselves and shared what they're focused on in the lead up to next year's elections. Organizers from groups like The Team, which works to bring civic engagement to NCAA college athletics, Campus Vote Project, which bridges gaps between students and college administrators to increase access to voting, and Student PIRGS (Student Public Interest Research Groups) were eager to share their plans for the next 12 months.
On the heels of their past success, the summit was meant to serve as a "major launch point" for college student voter engagement this cycle, according to coalition organizers. More than 200 youth vote organizers and allies from 25 different US states and Washington, D.C., attended the event, according to the nonpartisan SLSV Coalition, "including students, staff, and faculty from 65 different colleges and universities, staff members from 62 different nonprofit organizations, and representatives from three different local election offices." 
In 2020, "the national college student voter turnout rate increased by 14 percentage points – twice the overall national growth in turnout – according to the Institute for Democracy & Higher Education's National Study of Learning, Voting, and Engagement. As a result, 66% of all college student voters cast a ballot in the 2020 election, matching the general population after years of comparatively low voting rates," SLSV wrote ahead of the summit.
Enjoying The Up and Up? Subscribe here to receive new posts in your inbox 📥
On Thursday morning, I sat down with three University of Maryland Students — Rebecca Navarro, a 21-year-old senior and the Director of Civic Engagement for UMD's student government association and UMD's Terps Vote, Dhruvak Mirani, and Gannon Sprinkle, both 19-year-old sophomores and student liaisons to the College Park City Council.
Across various civic engagement roles on campus, Navarro worked on the 2022 midterm elections, including a 'know your ballot' campaign and voter registration drives.
Asked the biggest takeaway from her work trying to turn out student voters, Navarro said, "Young folks are interested in policy not politics."

"In my mind policy is very different than politics. People our age interested in the policy and the change. They're sick of the drama, and the soundbites, and the machines," she said.
Along those lines, Mirani and Sprinkle had high school experiences acutely impacted by Covid-19 and Covid policies, as well as things like book bans and school boards that were out of touch with student culture. They got involved in local politics as a result.
In their roles as city council liaisons, the pair is working on a pilot program for student rental subsidies (that has yet to be approved), but that in its first year would give a limited number of students between $1,000 to $1,500 dollars to offset the cost of off-campus housing.
"Affordable housing is on a lot of students minds," Mirani told The Up and Up.
"Students are paying too much for housing, and we aren't getting responsive building management when it comes to tenants' rights issues," Sprinkle said.
He said the idea for the program is to "use tax money to allocate specific subsidies toward students." The students said that if the program is successful, they would partner with local apartment buildings to match subsidies.
"This would help low income and Pell Grant students to live off campus," Sprinkle said.
I asked the trio what their biggest tips are for organizing young voters across the country ahead of 2024. Here's some of what they had to say.
Navarro: "Put the issues at the center."
Young people are motivated by issues rather than the candidate, she said.
Mirani: "Even if just a small proportion of students voted, we could make up a voting bloc that regularly decides who sits on city council(s). There would be co-governance between longer term residents and students."
The role young voters play is being emphasized at the federal level, but less so at the local level, he said. Students and young people's votes can have a greater difference locally, especially in college towns.
Sprinkle: "Digestible content is what we're focusing on."
Sprinkle and Mirani recently launched an Instagram account where they post recaps from the City Council meetings they regularly attend, making the information more palatable, and impactful, for their friends.
Beyond chatting with these three UMD students, I had the chance to speak with students from Georgia, Florida, and Pennsylvania — all states that have been hotbeds for youth political action within the past year.
Blake Robinson, who's 20 and goes to Georgia Southern University, said young voters are fed up with America's aging gerontocracy.
Elizabeth Ford, a graduating senior at the University of Pennsylvania and the fellowship coordinator for The Team, said she hopes all NCAA athletes will be engaged on Election Day.
Andres Cubillos of Florida State University said that in Florida especially, voting rights and the environment are top of mind for students.
Beyond the 1:1 conversations, the SLSV NSVS featured a series of panels including: 'Leading Through Nonpartisanship: Navigating a Polarizing Election Season,' 'Collaborating for Greater Impact: Local Election Officials and College Campuses,' 'Bringing Election Day Energy to the Primaries,' and a panel I had the honor of moderating, 'Messaging for Action: How Communications Strategies Can Impact Student Voters in 2024,' which featured CIRCLE's Abby Kiesa, Lake Research Partners' Jonathan Voss, NAACP Youth and College's Derrick Lewis, and digital strategist Daniela Mrabti.
We discussed navigating local media ecosystems and their impact on outreach strategy, young voters' mistrust of political parties and traditional/establishment entities, navigating grassroots organizing strategies vs. farther-reaching digital strategies, the role of celebrities and influencers in the youth vote space, and more.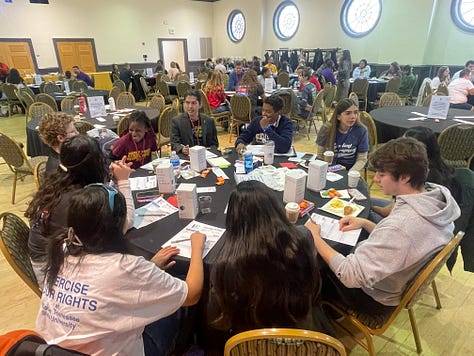 A message from a friend 🎤
The Conversationalist, an online Gen Z community, is looking for hosts for its original show 'POVz.' If you know anyone interested in applying, be sure to share this form. Here's a message from Sophie Beren, founder and CEO of The Conversationalist.
"Hi The Up and Up Community! I'm Sophie and I've spent the past few years traveling around the country amplifying our generation's voices by hosting our talk show POVz. I couldn't be more excited to share that now it's your turn!

We're launching the The Conversationalist's Correspondent Network to allow you to bring POVz to your campus and community and host our show. We're looking for Gen Z correspondents who are comfortable talking about the uncomfortable and are passionate about making others feel heard.

No past on-air experience is required. We can't wait to pass you the mic! 

You can learn more about the program and submit an application here. We're casting on a rolling basis, so apply today! Just be sure to submit your application before midnight on December 1 :)"