Discover more from The Up and Up
Your destination for news and insights about young people and our politics.
Over 1,000 subscribers
'This absolute litmus test': The politics of being pro-Israel as a young Democrat
Pro-Israel candidates for Congress navigate running on the left as Israel-Hamas war exposes generational divide in support for US ally.
Escalated fighting between Israel and Hamas has exposed a generational divide on the topic of US support for Israel.
Beyond Palestinian solidarity rallies on college campuses, as I mentioned last week, polls from NPR/PBS NewsHour/Marist and CNN show that younger Americans are less likely than their older counterparts to believe the US should publicly back Israel and that Israel's military response to Hamas' attack is justified. Youth-led groups including Gen Z for Change and Sunrise Movement have called for a ceasefire. And some on the progressive end of the Democratic spectrum have even postulated that President Joe Biden's unwavering support for Israel could be a losing strategy for winning over young voters.
But while the reaction from young Americans (the majority of whom identify somewhere on the left), has been a shock to some, two young Jewish Democrats running for Congress, both of whom are staunch supporters of Israel, say this is a dynamic they've grappled with in progressive circles for years. Their experiences as twenty-something-year-old Democrats in support of Israel provide further evidence of this growing tension on the left.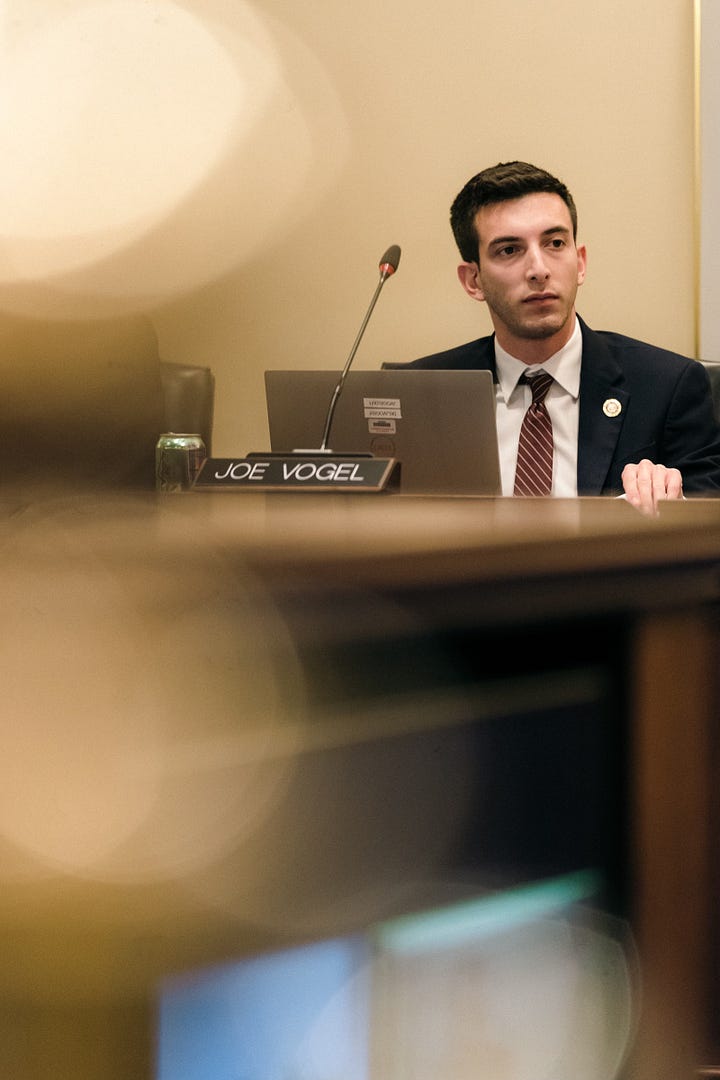 Maryland state Del. Joe Vogel
Maryland state Del. Joe Vogel, who's 26, has always been both a self-proclaimed progressive and outspoken supporter of Israel. He's running for Congress in Maryland's 6th district, which is currently represented by Rep. David Trone, who's running for Senate.
Vogel laments the progressive left's recent disdain for Israel and "manipulation" of the term and concept of Zionism.
"One thing that has just been so frustrating is the fact that this has turned into this absolute litmus test," Vogel said.
As a state Delegate, Vogel has prioritized student mental health, healthcare, and combating hate crimes and is endorsed in his run for Congress by groups like the LGBTQ+ Victory Fund, Path to Progress, Voters of Tomorrow, and College Democrats of America as well as Democratic Reps. Becca Balint, Mark Takano, and Ritchie Torres, who's been an exceptionally outspoken ally of Israel.
"On most issues I am progressive — and even on the issue of Israel I am progressive, but because I am a Zionist, because I believe Israel has a right to exist and defend itself, because I believe in the Jews right to self determination, I am disqualified from being a part of progressive movement," Vogel told The Up and Up, explaining the way some of his progressive peers have discounted his perspective on the conflict without a willingness to engage in a nuanced conversation on the topic.
"We need that dialogue and conversation. But I have an easier time talking to some of my Palestinian friends," he said, acknowledging that many of the most vehement opponents of Israel on the left don't have personal ties to the issue.
Last week, Vogel posted a photo on X of swastikas drawn on a door post in his apartment building lobby. Though it wasn't the first time he has seen them there, someone repainted the hate symbol amid the current fighting between Hamas and Israel.
"There's serious antisemitism embedded in this anti-Zionism that we're seeing."
For more on Vogel's pro-Israel progressivism, check out this Jewish Insider article from last May → "Vogel's strong support for Israel also sets him apart, even if he acknowledges that his beliefs haven't always been received positively by the left. 'When it comes to Israel, I have faced pushback before for my views,' Vogel, who called himself a pro-Israel progressive, explained. 'But I don't see being progressive as being in conflict with being pro-Israel. I actually think those are overlapping viewpoints,'" wrote Jewish Insider's Matthew Kassel.
Zak Malamed
"We need the next generation of Jewish leadership in Congress," said Zak Malamed who's 29 and running in New York's 3rd district, a seat currently held by Rep. George Santos and historically one of the US districts with the highest percentage of Jews. Prior to running for Congress, Malamed co-founded The Next 50, an organization that supports political candidates under 50.
"Theres nothing more progressive than unconditionally and unwaveringly condemning Hamas' actions," Malamed told The Up and Up. "Hamas would not for a moment embrace the intersectional movement the left has championed for the past decade."
"This is not a new issue folks on the left are reckoning with right now," Malamed said. He described attending a progressive conference about two years ago where there was a Friday night dinner for people from marginalized communities. "I looked at title of the dinner, and I know as a Jew I'm a part of a historically marginalized community," he said. "But as a Jew in the context of progressive movement, I knew I was not welcome at that dinner."
Amid the current uptick in antisemitism and Islamophobia in the US and around the world, Malamed told The Up and Up it is critical to fight against bigotry toward both Jews and Muslims.
"Now more than ever, with the demonstrable rise in antisemitism and Islamophobia, we need a generation of leaders who will unequivocally combat and condemn hate in all forms," Malamed said.
"Those who don't see antisemitism as a threat, especially on the left, have to acknowledge the privilege we've felt," Malamed said, adding, "we have lived in a moment of privilege in Jewish history." He said the current level of fear in his community is palpable and on the campaign trail he tries to spend time, "acknowledging people's fears and comforting them in the face of those fears." Asked about his time on the campaign trail the past couple of weeks, Malamed said: "Everything is secondary to what's going on right now in Israel and what's going on for the Jewish people here in the US and around the world."
More on this topic
The Anguished Fallout from a Pro-Palestinian Letter at Harvard, Eren Orbey for The New Yorker
On Israel, Progressive Jews Feel Abandoned by Their Left-Wing Allies, Jennifer Medina and Lisa Lerer for The New York Times
Fearful and grieving, Gen Z Americans clash over Israel conflict, Gabriella Borter and Joseph Ax for Reuters