Discover more from The Up and Up
Your destination for news and insights about young people and our politics.
Over 1,000 subscribers
'Sandwiching an election between holidays and college exams': How organizers are mobilizing young voters in the Georgia Senate Runoff
In the general election, young voters backed Democratic Sen. Raphael Warnock by stark margins. In the lead up to the runoff, youth organizations rallied their troops to do it again.
It's Election Day — again. In Georgia, Democratic Sen. Raphael Warnock is facing off against Republican Herschel Walker.
In the November general election, young voters in Georgia ages 18-29 overwhelmingly backed Warnock 63% to Walker 34%, according to analysis of Edison's exit poll data from the Center for Information and Research on Civic Learning and Engagement at Tufts (CIRCLE). The youth voting bloc was the only bloc to back Warnock by such stark margins, CIRCLE's analysis shows. 
"Young voters in Georgia, especially Black youth who have supported Democratic candidates by overwhelming margins, had a decisive influence in the 2020 Georgia Senate races and they did it again in 2022. If Senator Warnock wins reelection in the runoff it will likely be due to the impact of youth of color; and regardless of the result, expanding this segment of the electorate in Georgia through consistent outreach is going to be key to election outcomes for years to come," CIRCLE's Alberto Medina told The Up and Up Tuesday.
Here's a 👀 look 👀 at the way youth-led and youth-focused organizations have once again rallied their troops to turn out young voters in the Peach state 🍑🗳
The Georgia Youth Justice Coalition, a community of young organizers between the ages of 14 and 23 that focuses on state legislative and school board policy in Georgia, made half a million direct voter contacts ahead of the November general election, said Alex Ames, the 20-year-old organizing director of Georgia Youth Justice Coalition. 
Between the general and Tuesday's Senate runoff, Ames said, the group focused on 100k relational (peer to peer) and 50k conversations held in person on HBCU and state college campuses with 300 student organizers on campuses such as Spelman, Morehouse, Clark Atlanta, Georgia State, University of Georgia, and Georgia Tech.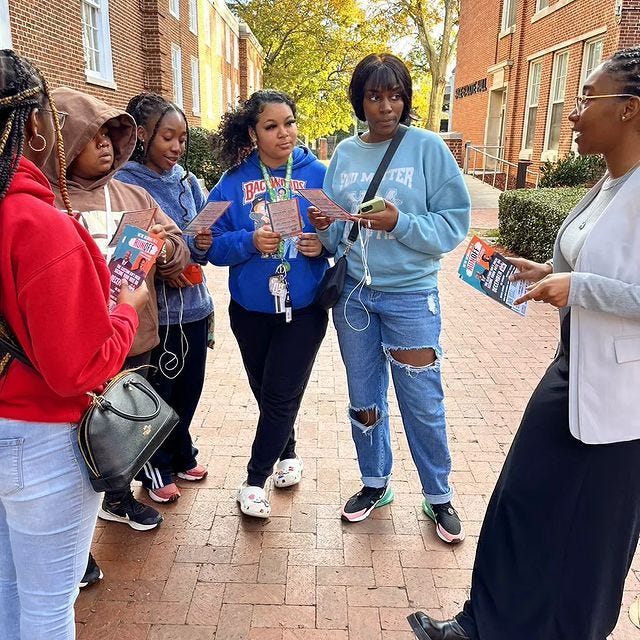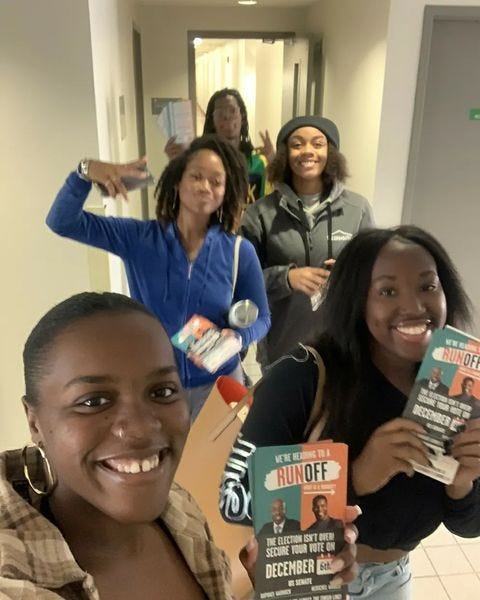 Ahead of the runoff, the group also ran its own "Gen Z War Room" with more than two dozen state-level and national youth organizations including New Georgia Project, Georgia Youth Action, Voters of Tomorrow, Gen Z for Change, Peaches for Progress, 18 By Vote, NAACP Georgia, and Sunrise Movement. As part of its War Room effort, Ames and other organizers worked to secure Saturday, Sunday, and on-campus early voting options to make voting more convenient and accessible for younger voters.
Ames said the Coalition approached the election cycle two ways. First, with an understanding that students are busy. And second, they preach the philosophy that "voting is medicine, not magic," Ames said, adding there is a lot at stake and "a lot of things can change [through voting] like public school budgets, gun laws, and LGBTQ+ rights in a state with one of the most diverse electorates in the nation."
"You've got to make the argument of why this election actually matters," Ames said.
There were also two major hurdles leading up to the runoff: the timing and a lack of initial funding for youth focused organizations, Ames said.
"The first obstacle [with the runoff] is sandwiching an election between holidays and college exams," Ames said. "Second, we needed funders to pull through."
Overall, Georgia Youth Justice Coalition's goal this election cycle through the runoff was clear, Ames said: "To once again break youth turnout records and for as many young people who want to cast a ballot to be able to as possible."
Enjoying The Up and Up? Subscribe here to receive new posts in your inbox 📥
Voters of Tomorrow x Plus1Vote gives young voters free Uber rides to polls 🚘
Voters of Tomorrow made over 2 million calls and texts to young voters in Georgia ahead of the runoff, the group said Tuesday. In person, the group organized on 11 college campuses at University of Georgia, Georgia Tech, Georgia State University, Morehouse College, Kennesaw State University, Clark Atlanta University, Emory University, Georgia Gwinnett College, Oglethorpe University, University of North Georgia, and Berry College.
Voters of Tomorrow's Georgia chapter has become the organization's largest chapter of their 22 state and 19 local chapters nationwide, said Jack Lobel, spokesperson for Voters of Tomorrow. 
In addition to its phone banks, text banks, and relational organizing, Voters of Tomorrow along with Plus1Vote, a voter engagement organization, has been offering free Uber rides to young Georgia voters from early voting through Election Day in all of Georgia's 159 counties. The group gave out vouchers to fund a young voters' trip to the polls.
"Integrating free rides to the polls into our organizing will provide voters with another option to get to the polls and serve to get as many young people to the polls as possible," Santiago Mayer, Executive Director for Voters of Tomorrow, said in a statement. "We're thrilled to be a partner on this. This is a first of its kind program for Uber, with a direct investment in young voters in the Uber app."
Mayer explained that the average trip cost via a ride share app to the polls is $25, which can serve as a barrier to the ballot box. The program is designed to incentivize students via a free voucher. The group focused its outreach this cycle on HBCUs and young voters of color.
Sunrise Movement
For its part in the lead up to the runoff, Sunrise contacted voters mainly through phone and text banks. Organizers with Sunrise in Clayton County and Atlanta also did direct voter contact on the ground in collaboration with the Working Families Party.
As of Monday, Sunrise surpassed its youth voter contact goal in Georgia, the group said, following a phone bank Sunday with United We Dream Action, the youth-focused immigration group. 
"Sunrise reached its goal of contacting the top 70% of high priority voters in Georgia under 35 years old – these are all voters who have not voted in a midterm election before this year. Interestingly, this voting bloc reached was 99% people of color," said Sunrise spokesperson Ellen Sciales. 
That number is almost double the number of voter contacts Sunrise made for Massachusetts Sen. Ed Markey in 2020, when the organization went viral for its memes and digital tactics in support of the climate champion. 
Ahead of the Georgia runoff, Sunrise also joined Georgia Youth Justice Coalition's Gen Z War Room.
"Young people across the country are showing up – not just to the polls, but at canvasses and phone banks to get out the vote," said Ezra Oliff-Lieberman, Electoral Organizer for Sunrise Movement. "We are a force to be reckoned with because we know the stakes, and we're consistently hearing from young voters about the critical issues facing our generation. Each shift we're reminded of the importance for Democrats to keep running and delivering on these issues."
Rise
For its part Rise, the youth-focused college affordability and democracy-focused nonprofit filled over 600 canvassing shifts, knocked 30,000 doors and held 8 campus events in an effort to reach Black college students and youth with voter mobilization information, said Rise CEO Max Lubin. The group worked on campus at Spelman, Morehouse, Morris Brown, Georgia State, University of Georgia, and more.  
Democrats' newest youth vote surrogate
On Monday, Gen Z Rep-elect Maxwell Frost of Florida rallied voters at Georgia Tech on behalf of Warnock. Frost was the latest politician in a line that includes former President Barack Obama and New Jersey Sen. Cory Booker to rally for Warnock in the lead up to the December runoff. 
"We know that young people don't make up the biggest voting bloc right now," Frost told the crowd at Georgia Tech. "But we are the bloc that matters. We are the bloc that decides the margins."
Beyond speaking to young voters at Georgia Tech, Frost on Monday night attended a 'Skaters for Warnock' event, where he played the drums. 
See for yourself:
The Washington Post's Dylan Wells breaks down how young voters are feeling about the Georgia Senate runoff, featuring conversations with more than 20 students on both sides of the aisle. Check it out:
More youth vote in the GA Senate runoff news 🗞 :
Young Georgians Are Getting Out the Vote for the December 6 Senate Runoff, Fortesa Latifi for Teen Vogue
Opinion: Georgia State student: Why does Georgia make voting so hard?, Sa'Real McRae for the Atlanta Journal Constitution
Georgia's young voters ready for Dec. 6 runoff after new election rules tripped up some in midterms, Stanley Dunlap for GPB News