Discover more from The Up and Up
Your destination for news and insights about young people and our politics.
Over 1,000 subscribers
The youth vs. state lawmakers
One thing's clear: young people are standing up for themselves.
2016 was the first presidential election in which Gen Z was eligible to vote and it's impossible to ignore the impact that former President Donald Trump has had on young people's politics. But while Trump's historic indictment yesterday shook Washington and could alter the political landscape ahead of 2024, it's unclear how the news impacted young voters.
Though I received a handful of statements from political youth groups (worth noting, those came from progressive leaning groups) and saw tweets or posts from a number of young activists, even after the breaking news alerts, the organizers in my feed were still posting about the same topics they were before 5pm on Thursday.
Many young voices remained focused on this week's deadly shooting at The Covenant School in Nashville, Tennessee and the response from GOP lawmakers (one of whom quite literally said "we're not gonna fix it"), student-led protests in response to state level bills to limit the rights of transgender youth, and the upcoming Wisconsin Supreme Court election (which is on Tuesday). 
And since The Up and Up is focused on how young people are organizing, mobilizing, and participating in civic life and politics, and since there was no shortage of that this week, that's what today's edition will cover. 
Enjoying The Up and Up? Subscribe here to receive new posts in your inbox 📥
Young people rally for gun safety in Tennessee
There are renewed calls for gun safety legislation following the deadly shooting at The Covenant School in Nashville, Tennessee that left three nine-year-olds and three adults dead. In Tennessee in particular, young people and their parents rallied Thursday at the state Capitol. "What do we want? Gun control. When do we want it? Now," demonstrators chanted.
On the horizon, student organizers with gun violence prevention organization March For Our Lives are planning a walkout in Nashville on Monday, which will mark one week since The Covenant School shooting.
Meanwhile in Texas…
A coalition of youth-focused organizations called the Texas Youth Power Alliance held what they called the "Youth Capitol Takeover" at the Texas state legislature Wednesday in order to "demand real change for our generation on issues which have too long been ignored by out-of-touch and power-hungry politicians."
The Alliance includes youth advocacy groups MOVE Texas, Jolt Action, Texas Rising, Youth Rise Texas, and Deeds Not Words.
The day of action included a performance at the Capitol featuring storytellers and artists.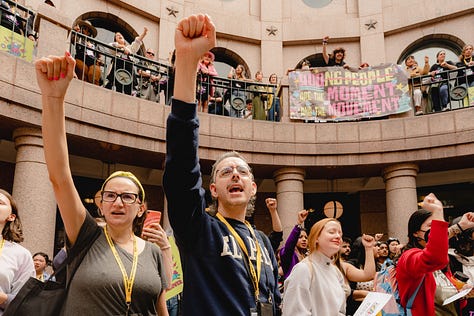 "Our Youth Capitol Takeover seeks to harness the energy young Texans have right now to a Texas that knows our worth with action. The opportunity is here, and young people are demanding bold action now. Texas is our home, and we're doing all we can to make it a better place to live and prosper for generations to come," MOVE Texas Executive Director Claudia Yoli Ferla said in a statement.
The day of action comes as legislators in Texas debate removing polling locations from college campuses in the state. State legislators are also considering placing restrictions on healthcare for transgender youth, what is taught about gender and sexuality in the classroom, and where people can perform drag shows. And Texas has been a leader in the GOP-led movement to restrict access to reproductive healthcare.
"As young student leaders and activists, we're engaged in our democracy and we will be pushing our legislators to enact positive policy changes that will help our growing generation thrive. We're working with legislative champions to make sure our voices are heard at the ballot box with polling access on college campuses, Texan teens have access to healthcare needs such as contraception, and that LGBTQIA+ students and families are respected," Texas Freedom Network's Texas Rising Director Rae Martinez said.
And in Kentucky, organizers with Kentucky Student Voice demonstrated at their state Capitol on Wednesday over a bill that will, amongst many things, limit transgender students' rights in the state. Though Kentucky's Democratic governor vetoed the bill, the GOP-controlled state legislature voted to override the veto.
In Wisconsin, youth-vote organizers are working to turn out young people in the state Supreme Court election. The winner of the election will serve a 10-year term on a bench that could make decisions about abortion, redistricting, and voting access in the state.
That's a lot. One things's clear: young people are standing up for themselves.
ICYMI: Check out my latest piece for Glamour about how young women and girls in Florida are reacting to a bill meant to limit sexual and health education.