Discover more from The Up and Up
Your destination for news and insights about young people and our politics.
Over 1,000 subscribers
Happy National Civics Day
First Lady Jill Biden joins ATTN: and Nickelodeon for the launch of a new video series to boost civic literacy, meet the Gen Z candidates running for Congress, and more of this week's youth vote news.
The United States struggles when it comes to civics education — which is a problem, especially if you're trying to encourage young people to vote. According to the 'Nation's Report Card,' the national average civics score for 8th graders dropped last year for the first time on record.
So in honor of National Civics Day, which is today, First Lady Dr. Jill Biden joined producers ATTN: and Nickelodeon in Philadelphia for the launch of 'Well Versed,' a 12-part music video series about democracy and the U.S. Bill of Rights meant to boost youth civic literacy. Think "Schoolhouse Rock!" 2.0.
Thanks for reading The Up and Up! Subscribe for free to receive new posts and support my work.
The revamped take on the 1970's classic pairs animated lessons on "Rules and Laws," to "Our Rights," and "Differences, Disagreements, and Democracy" with catchy sing-a-long tunes.
"When we understand civics, how our government works, and how to hold it accountable, we're able to make each other and our country the best it can be," Dr. Biden told the crowd of mostly fifth-grade students from McCall Elementary School. A classroom teacher for more than 30 years, as First Lady, Dr. Biden has continued to teach English at Northern Virginia Community College and education is one of her key priorities.
Today's kickoff event also included a video message from former First Lady Laura Bush, a rare moment of bipartisanship, as well as remarks from ATTN: co-founder Matthew Segal, Paramount chair Shari Redstone as well as president and CEO of Paramount Pictures and Nickelodeon Brian Robbins. After the series' premiere, three students joined Dr. Biden for an on-stage civic trivia game, and in true Nickelodeon fashion, there was slime.
As research from the Center for Information & Research on Civic Learning and Engagement at Tufts (CIRCLE) shows, K-12 civics education looks dramatically different across the country. The Well Versed series is geared toward children ages 6-11, though it includes programming for preschoolers as young as 2-5. The curriculum is steered by iCivics — a nonprofit civic education organization founded by Justice Sandra Day O'Connor.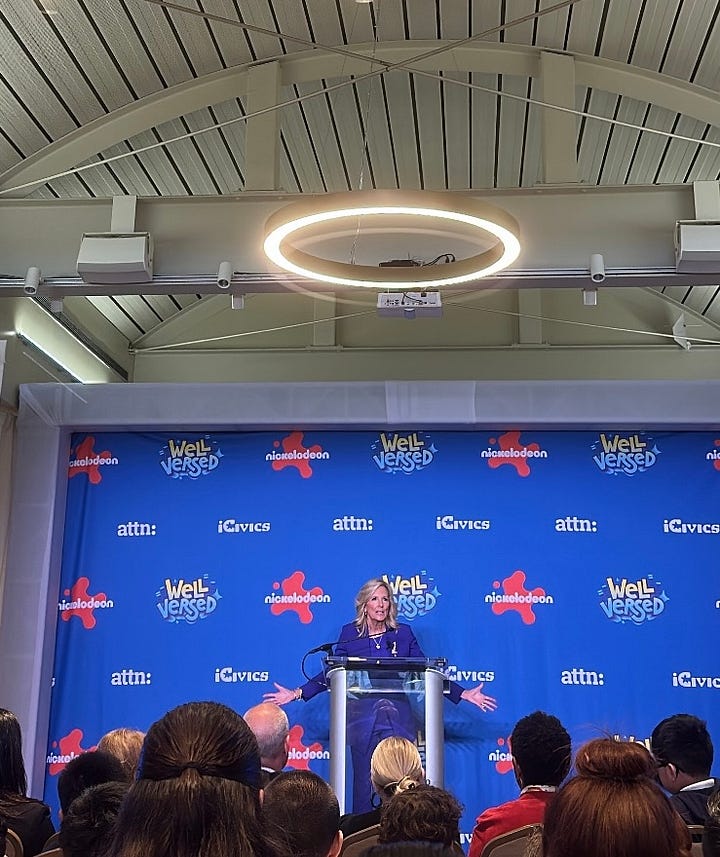 Meet the Gen Z Candidates Running for Congress in 2024 🤝
In my latest piece for Teen Vogue, I spoke with three Gen Z candidates for Congress: Maryland state Del. Joe Vogel, Cheyenne Hunt (running in California), and Isaiah Martin (running in Texas). Despite growing up in different parts of the country, these young candidates, all of whom are Democrats so far, share a common belief that today's problems are too dire to ignore. In launching their campaigns, they each spoke to a sense of urgency in combating them. Read more here. And please send any other Gen Z candidates for Congress my way!
More evidence of a generational divide in Americans' support for Israel
As I've covered, there's a clear generational divide in Americans' support for Israel in the Israel-Hamas war. The release of a new Harvard CAPS-Harris poll this week found that though overall 84% of Americans side with Israel, while 16% side with Hamas, Gen Z is more likely than any other generation to say they side with Hamas.
Just 52% of young Americans ages 18-24 said they side with Israel, while 48% said they side with Hamas — drawing a sharp difference from older age groups. Among Americans ages 25-34 (just one age bracket higher), 71% said they side with Israel, while 29% said they side with Hamas. Meanwhile, 95% of Americans 65 and older said they side with Israel, while just 5% said they side with Hamas.
While many young people in support of Palestine have been protesting on college campuses and in cities across the country, some are finding alternative locations for their demonstrations. An online pro-Palestine rally in the virtual world of Roblox this week saw over 275,000 visits, according to CNBC. As tech journalist Taylor Lorenz points out, this isn't the first time young people have staged political protests in the online world.
To dive deeper on this dynamic…
Biden, Gen-Z, and the Illiberal Left, Peter Hamby for Puck
U.S. adults' views on Israel-Hamas war depend on age, Eleanor Hawkins for Axios
More youth vote in the news 🗞
TikTok returns to the campaign trail but not everyone thinks it's a good idea, Elena Moore for NPR
Voters under 30 are trending left of the general electorate, Monica Potts and Holly Fuong for ABC News
Thanks for reading The Up and Up! Subscribe for free to receive new posts and support my work.